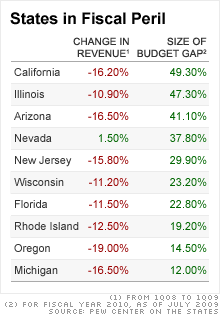 It has been evident for a while that local governments in the US have to cut back on spending. While the federal government can run  huge deficits (last year it was around $1.4 trillion), states have to balance their budgets. Although states are reliant on creative accounting and to some extent, illegal practices, they cannot hope to balance their budgets using the same old tricks for much longer because states' revenues are down dramatically. According to a new report by the Pew Center "the same economic pressures that pushed California to the brink of insolvency are wreaking havoc on other states".
The first state that comes to mind when talking about fiscal problems is California with its 49% budget hole and a 16.2% drop in revenue. But there are other states out there whose fiscal problems come eerily close to California: Illinois' budget is off by 47% while Oregon's revenue has fallen 19%, which is even worse than California. According to the law, states have to balance their budgets just like every enterprise interested in survival (companies can rely on debt, but they have to service that debt and eventually pay it off, unlike the federal government or the government of Japan, for that matter).
What to expect from all of this?
Well, first off, states will most likely use every possible means to raise revenue – meaning more traffic tickets, higher fees, giving out casino licenses (some states are seriously thinking about legalizing gambling to collect taxes) and downright stupid requirements like the one that New York just imposed on its vehicle owners by requiring them to buy new license plates for no other reason than to collect funds. But aside from collecting more taxes, states will start cutting back on vital public services like the maintenance of roads, bridges, waterfronts, levees, railroad crossings – all the while infrastructure is in a terrible shape and needs immediate fixing. This is very sad indeed – while I remain critical of the way the country is run, I am still very much fond of America. I would like to see America recover as much as Americans themselves, but given the current trends I don't see that happening. It is indeed a sad chapter in American history.